Earnings on YouTube, everyone knows that it is different for each particular niche and it is based on how many views you get.
A few years back, I was extremely curious as to how much a youtuber can earn at different levels of the "journey", more specifically, at the beginning.
Here is exactly how much I earned on youtube from the moment I got accepted into the adsense program until now💰.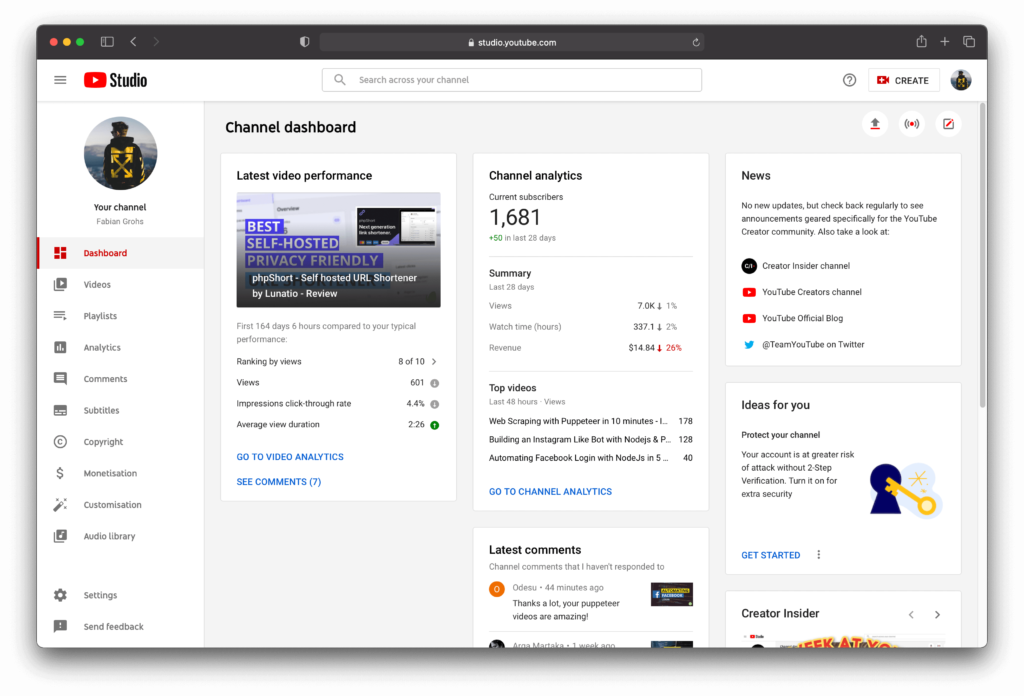 1,680 Subscribers & 126K views
I started my channel a while back, when I first released my Web Scraping with Puppeteer video back in November 2018, which is still valuable and still brings good views even now.
I created those initial videos that you find on my channel for the sole purpose of delivering good quality content and to help people with Scraping with NodeJs, as I also released my first ever Udemy course around the same time to bring some extra traffic and potential sales to it.
Beginning to now
Here are the exact statistics of my "beginner" youtube account, I have under 2,000 subscribers and just got monetized a few months ago 🎉.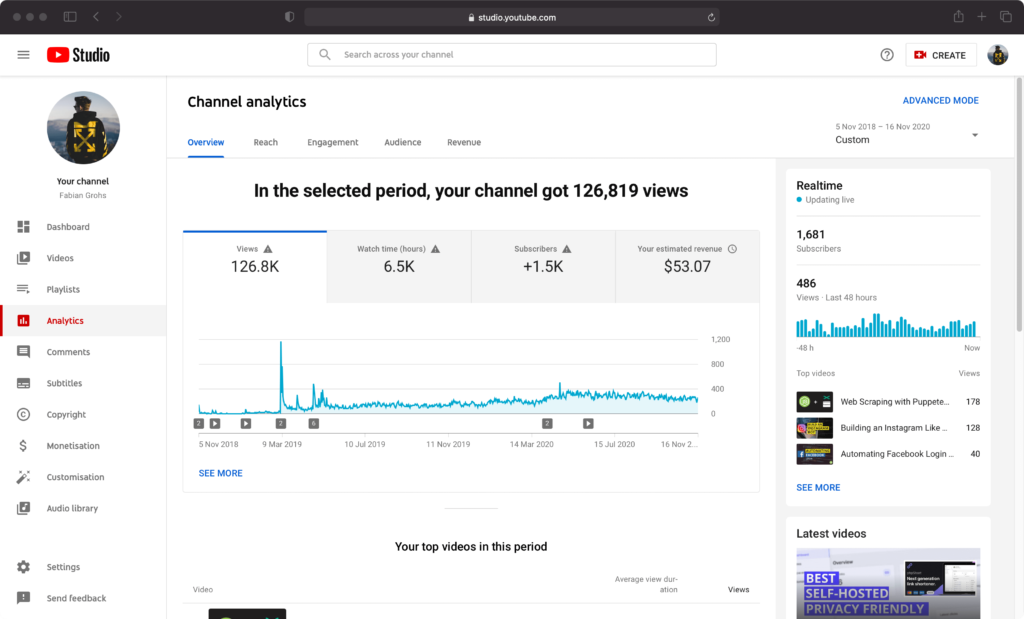 Here are some quick stats that you can also see in the dashboard
My first 4 videos barely got any traction on youtube.
The 5th and 6th videos got viral and were featured on Reddit and newsletters.
I took long breaks, I never was serious about being a YouTuber (though I always liked the idea).
I got monetized on the 1st of September, 2020.
I made $53 in 2 months and a half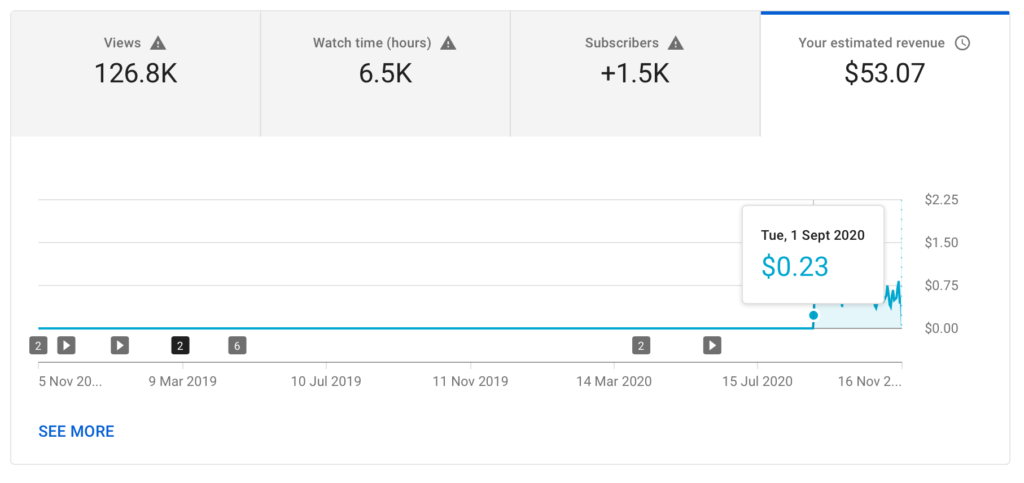 Without any extra work from my side, simply by enabling the Ads on my account, I had made $53.
Now, what do I make of this?
I am honestly impressed by how much you can earn with just a few normal videos in this niche. I can definitely see how this can be transformed into an actual money making business that allows you to live comfortably.
I have learned that if you put enough work and dedication into your craft, the results will come. This can be also applied to creating videos and being a youtuber.
Top earning videos
I think this is an important topic to talk about as if you are paying attention, it shows you a lot about people and how it all works.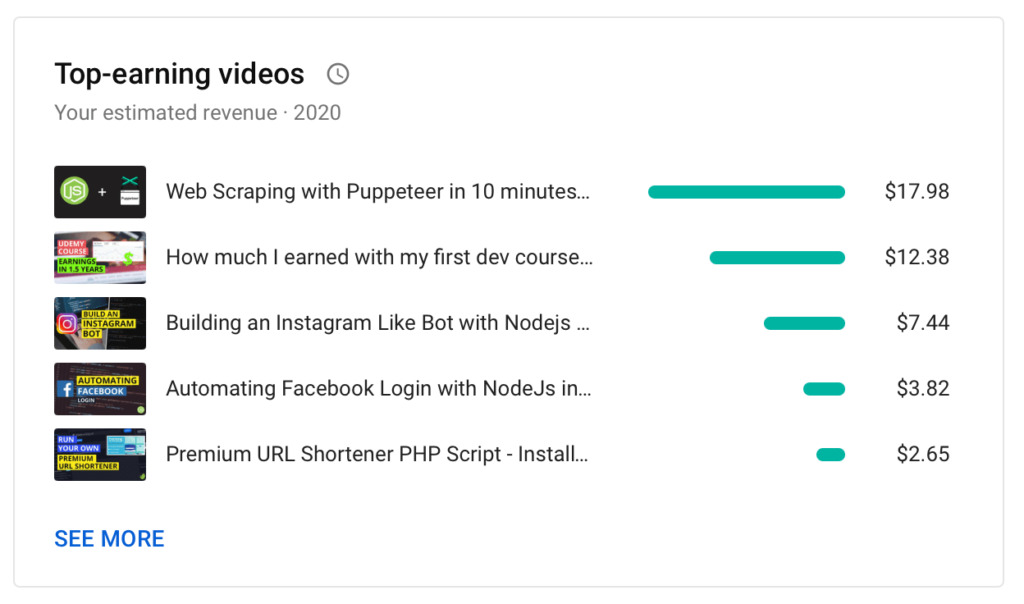 Web Scraping with Puppeteer in 10 minutes (42,000+ views) – has a very catchy title and it actually delivers good and quality content in a short amount of time.
Building an Instagram Like Bot (32,000+ views) – this video would've made much more if it would've been monetized back when it was released as it was a trendy subject back in 2018.
Conclusion
I hope these statistics have satisfied your curiosity on how much you can earn on youtube while having under 2,000 subscribers.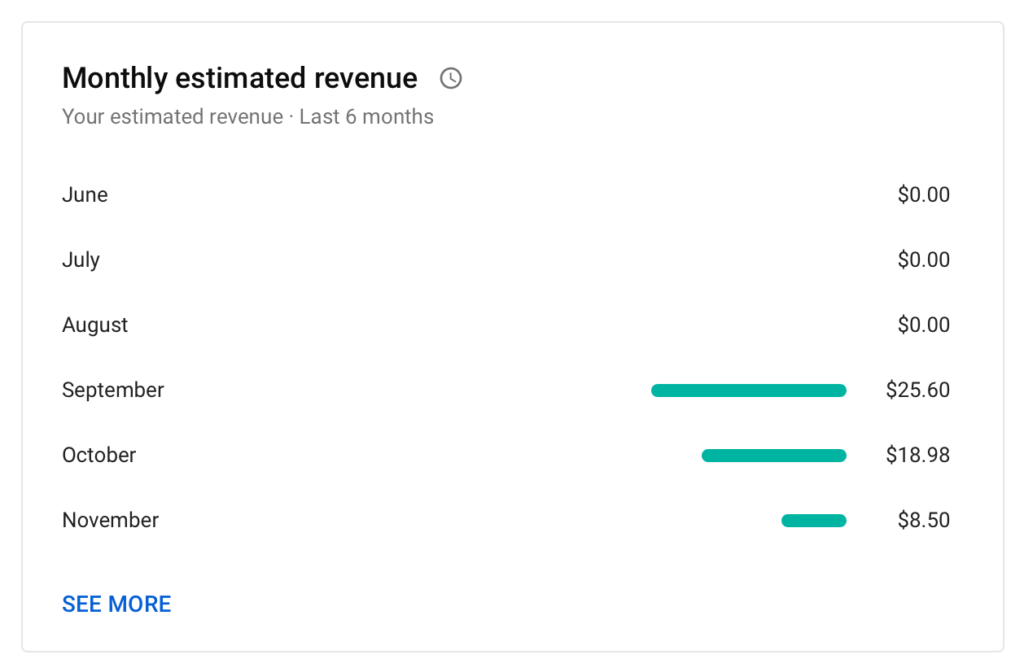 September – $25.60
October – $18.98
November – $8.5 (as of writing this article, in 17th of November)
If you have any other youtube earnings-related questions, make sure to ask in the comments section or by tweeting @ me, I'm glad to answer 🙌.