In this post, I am going to give you a short form review for the Premium URL Shortener PHP Script, which I purchased and installed to test and use for personal URL shortening needs.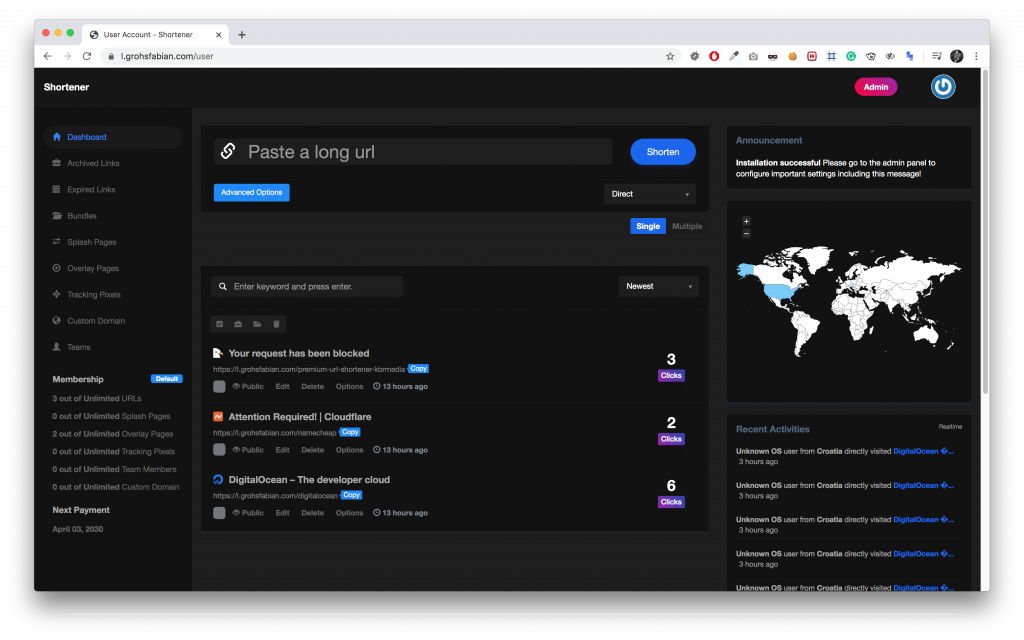 I've purchased this product to use it as a self-hosted URL Shortener on domains that I own, without the need of something with a lot of features.
My only needs for an URL Shortener would be the following:
The base functionality to work properly
Good statistics for each shortened URL
The ability to categorize and sort the shortened URL's
The ability to add custom domains
A decent / good looking interface to use daily
In most part, this product covers almost all my needs, except a few mentions.
Keep in mind, I am talking about the Regular License (which is for personal use), without the inclusion of the payment system to run this as a SAAS App.
Features
The core functionality of the URL shortener is there, all the features that I needed, I actually found them in the product, which is a good start.
It has a lot of other extra features, such as:
Splash pages
Overlay pages
Redirect frames
Tracking pixels (Adwords, Facebook Pixel..etc)
Custom Domains
Teams system
Categories (worded as Bundles)
A lot of these features are useful and some of them, I simply find that there is no place for them in an URL Shortening product.
I am referring to overlays, redirect frames and splash pages.
These always remind me of those typical scammy-looking websites from where you want to download something and it redirects you to a splash or frame page where it would tell you to wait X amount of seconds and then proceed to download.
These might have a use for some people because they can run ads on them and it is a way of monetizing the system, but, in my opinion, in 2020, there is no place for such things anymore.
Other features
It is nice that the product comes with a large set of functionality and features which cater to a lot of usage types.
Custom domains
This is a very cool addition to the product because with the custom domains feature, you can basically attach other domains which you may own and shorten URL's on them as well.
For example, I have my other domain learnscraping.com, where I post my NodeJs scraping tutorials. I can create a new subdomain, like l.learnscraping.com and attach it easily inside the dashboard of Premium URL Shortener and start using it to short links using my other domain as well.
Tracking Pixels
Tracking pixels for shortened URLs is a feature that is another nice addition to the system as it allows you to send your visitors data and access it via Facebook Ads, Adwords…etc and the other systems to retarget them via Ads lately.
Teams
This feature is useful when you do not want to share your account password and all the privileges to friends or colleagues. It allows you to create a team and invite people, including the ability to share certain permissions for them.
Statistics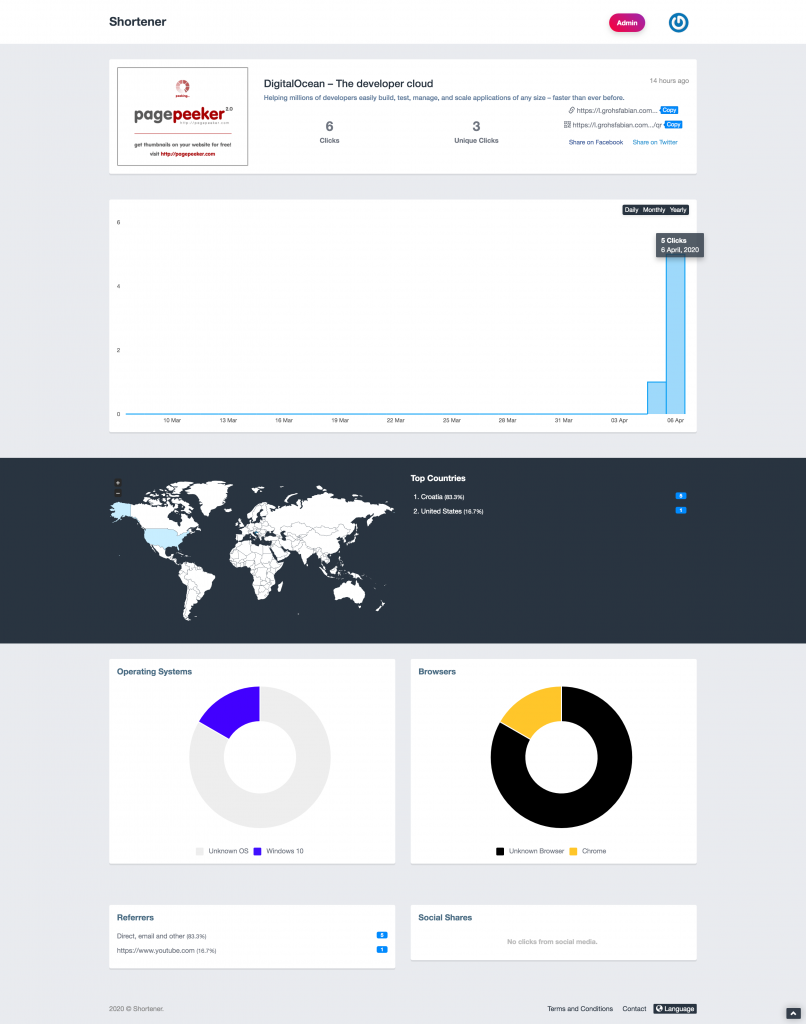 The above image is how the statistics page of a shortened link looks like. It contains somewhat useful information, but it is a feature that I definitely think that should've been more focused on.
One thing that I like and I feel like it is useful is the ability to export the statistics of shortened URLs in CSV format.
Cons on the statistics page
The dark mode is not consistent throughout the product
If you want to see all the clicks that happened in a specific week of a particular month, you cant, because there is no Date range selector.
All the details below the chart (countries, operating systems…etc.) are based on the total visits on that link, which means that you can't know the top country on a specific month, for example.
Operating system and browser parsing seems to not work well all the time
Other extra mentions
These are the things that I found after using the product for a while, which in my opinion, need mentioning.
One really annoying thing is that you can't have aliases longer than 20 characters. I personally don't really know why was this limited to 20 characters only as if I want to have a custom alias named "premium-url-shortener", I would not be able to have it as its more than 20 characters. In a lot of cases, people do not really care about the length, but mostly use a shortener like this for statistics and not only for really short links.
Another annoying limitation is that you can not change the alias of the link once you create it.
Is this product for you?
Here is my checklist that might help you decide if this product is for you or not.
It is for you if:
You're looking for an affordable product
You want a lot of functionality and features
It is NOT for you if:
You care more about the interface, UI & UX. It has decent UI, but there is a lot of clutter and inconsistencies throughout the product.
You want more detailed statistics for the shortened links.
Installation
I have also filmed a 30-minute video where I show you the installation process of the URL Shortener, review it and give you my 2 cents on it. If you're interested in this, check out the video below.
Notice
This is not a sponsored article/video. I have purchased the product myself and I also showed the proof of purchase in the video. It is my honest opinion on the product at the time of writing/updating this article.
Links