We're going to dive into a review of phpShort, which is a clean-looking, fully-featured and self-hosted URL shortening platform.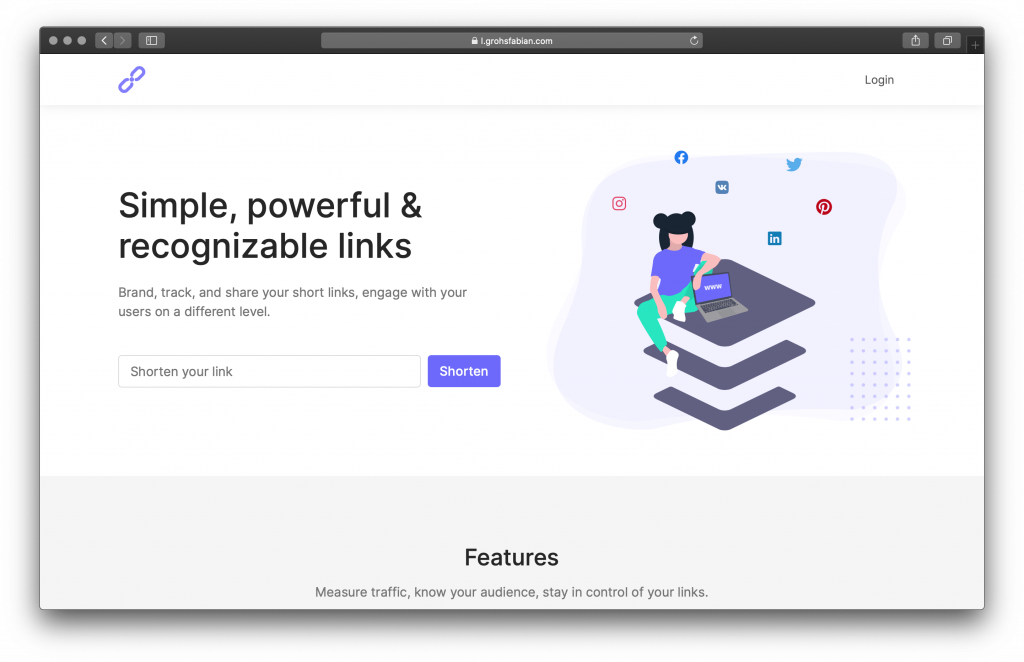 phpShort is a more recent launch on Envato's Codecanyon and I went ahead and purchased it from the first day.
Later on, it also got featured on Codecanyon as a top item of Lunatio.

Now, lets get into the actual review and my experience with phpShort.
I've already mentioned in a previous post, the exact needs and expectations that I personally have from a shortener.
I want the shortener to work properly, have good statistics, a good-looking UI, a way to sort my shortened and an important feature, which is Custom Domains.
phpShort ticks all the boxes for me and I've been using it on one of my other projects from the moment this product was launched.
Overview
Let's talk about the good parts and features this product brings to the table..
Here are the most important features, which I think are worth mentioning:
It has a very clean-looking and simple UI
It feels like a breath of fresh air, compared to the other self-hosted solutions
It does exactly what a strong URL shortener should do and does not try go into another realm with unnecessary features
It has a Categorization feature, Custom domains, plenty of good statistics
It also has advanced settings for shortened links, which I will mention below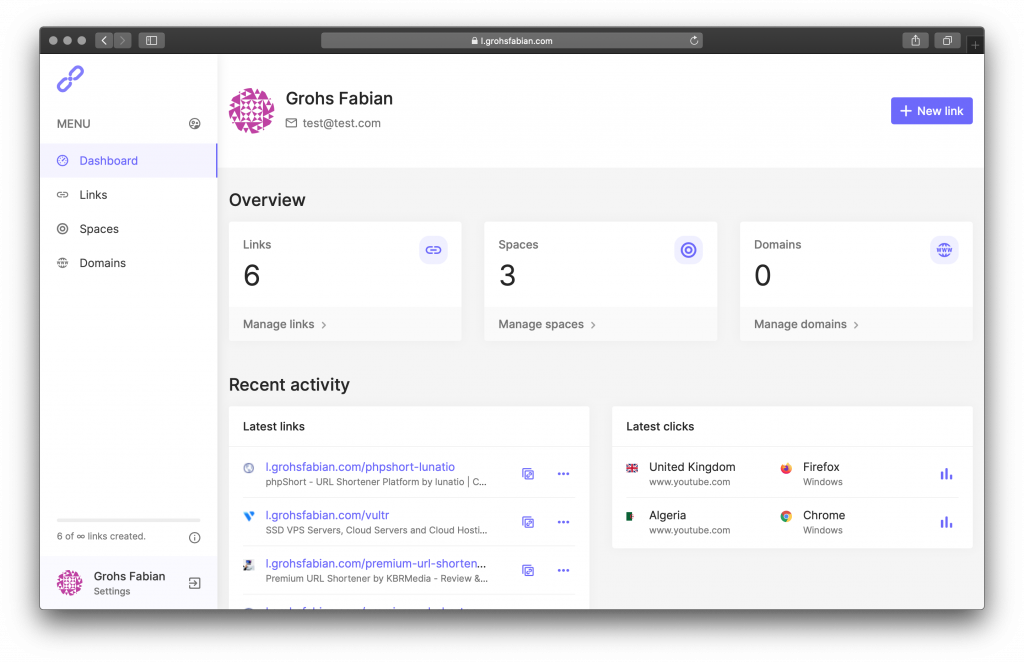 Features
I can say that this product is already feature-rich but and there are only very few things that other people might consider that are missing.
Here are some good shortener specific features that should be mentioned:
Custom domains
This feature gives you the ability to connect other domains to the phpShort installation so that you can create domain-specific shortened URLs without having to install phpShort multiple times.
As a simple example would be that, from my l.grohsfabian.com phpShort installation I can connect my l.learnscraping.com subdomain and start using the extra custom domain directly from my phpShort installation.
This feature is a must-have for a shortening platform as it is a very easy and useful method for people who own multiple websites and want domain-specific shortened URLs.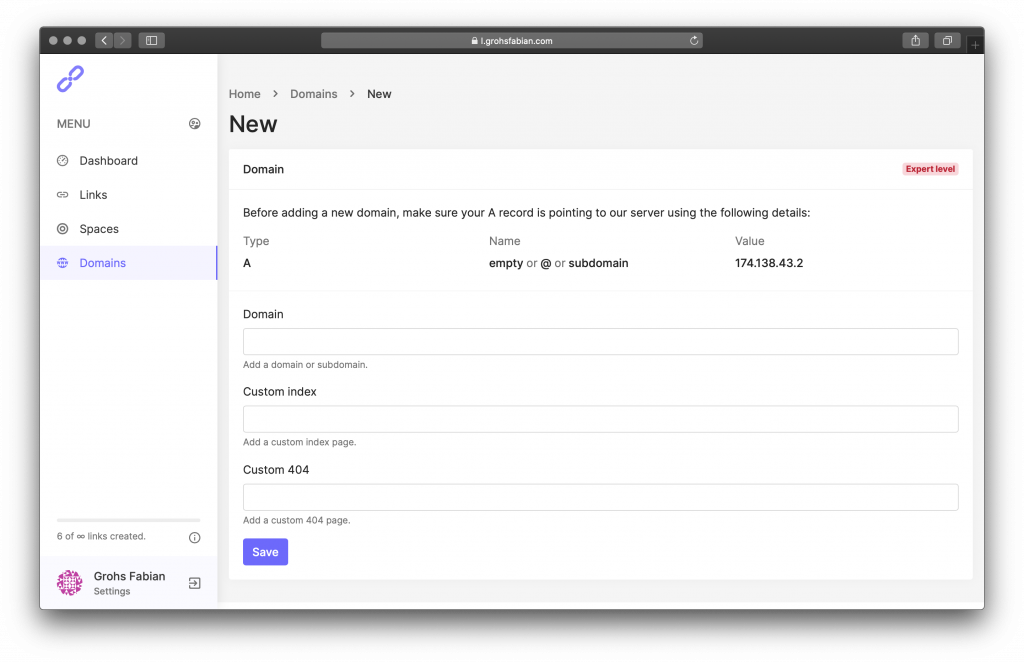 Advanced URL Shortening
Here I am going to list a few features that I find very useful for everyone that you can directly use when you are in the process of shortening a new URL.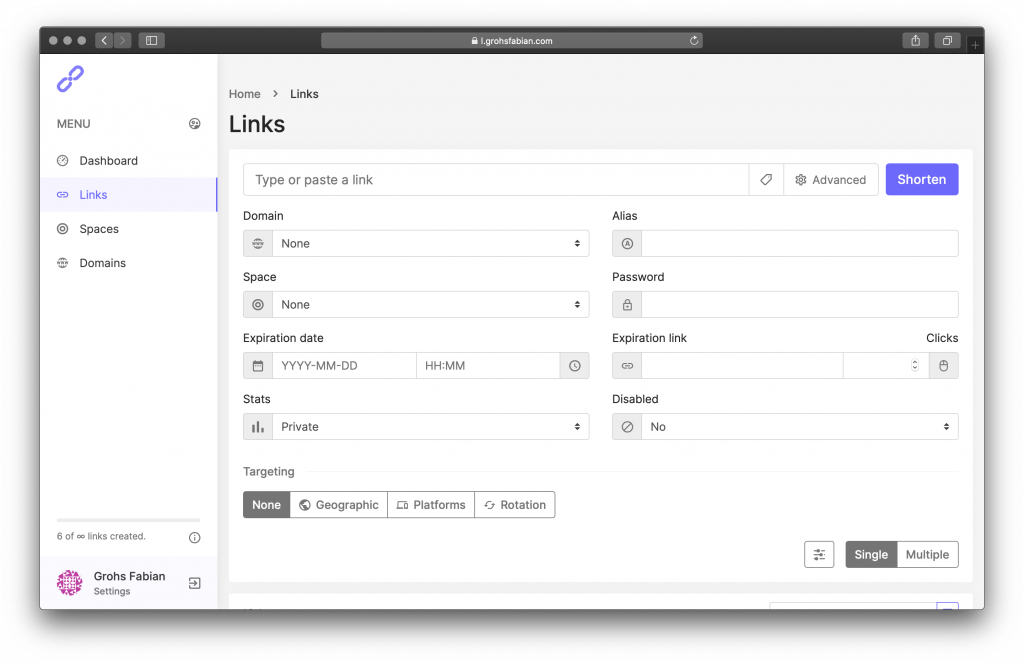 Domain – Choosing on what domain you want the URL to be shortened.
Alias – If you need a custom path for your shortened link. For example, instead of l.grohsfabian.com/1e3tj1c to have l.grohsfabian.com/my-custom-path.
Space – Spaces are basically Categories, just worded differently.
Password – So that you can only allow access to people who have a password for the shortened link.
Expiration date
Expiration link – When a shortened URL expires, you will get redirected to another link that you can specify in the expiration link field.
Clicks – You can set the link to expire after X amount of visits on the shortened link.
Statistics for the shortened link – Public or Private
Geographic targeting – Here you can specify exact redirection links for specific countries.
Platform targeting – Just like the Geographic one, here you can redirect users to different links based on their Platform ( iOS, Windows, Ubuntu..etc )
Rotation – Using the rotation feature gives you the ability to randomly redirect users that click on the shortened link, to other links which you list in there.
UTM Builder – Where you can easily add your UTM details if you need to.
Statistics
Let's also talk about the statistics that you get for each shortened link.
I really enjoy looking at beautiful and detailed statistics and this is one of the reasons why I really like phpShort, compared to other existing solutions on the market.
You get statistics like:
Hours, days, months evolution where you can specifically see how many visits you had on your shortened URL.
Geographic
Browsers, platforms, devices, languages
Referrer statistics where you can see where is your top traffic coming from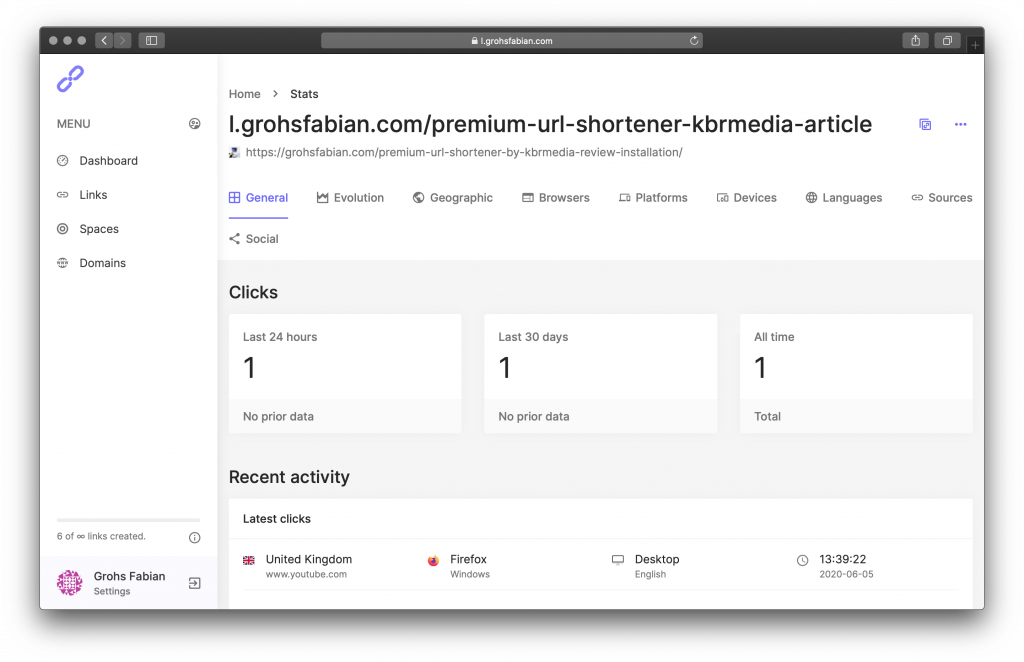 The only thing that I feel can be improved in the Statistics part is to actually get a Datepicker feature where you can specifically see statistics like The exact referrers for the link in a particular date range, rather than the referrers from the point the link was created until now.
Why should you choose a self-hosted solution?
In my opinion, a self-hosted solution is the way to go for people who want to have control over all their data. It is a better and more privacy-friendly solution.
Also, in a lot of cases, a self-hosted solution will ultimately be cheaper for you as you can simply get lifetime updates for a one-time payment instead of paying monthly subscriptions.
Of course, you will have to have a host and a domain in order to run the product.
Is this the right product for you?
In my opinion, this is the most balanced self-hosted URL shortening solution that you can find on the web right now, at the moment that I am writing the article.
It is a stable solution, it has all the features that you should need from a URL Shortener and it is also good looking to the eyes (as it also features a cool Dark Mode).
Do not get this product if you are looking for spam related features, such as: Overlays, link timers where you can have ads and any related features like these.
I believe this product is aiming to provide quality only features while also having an ethical perspective in mind.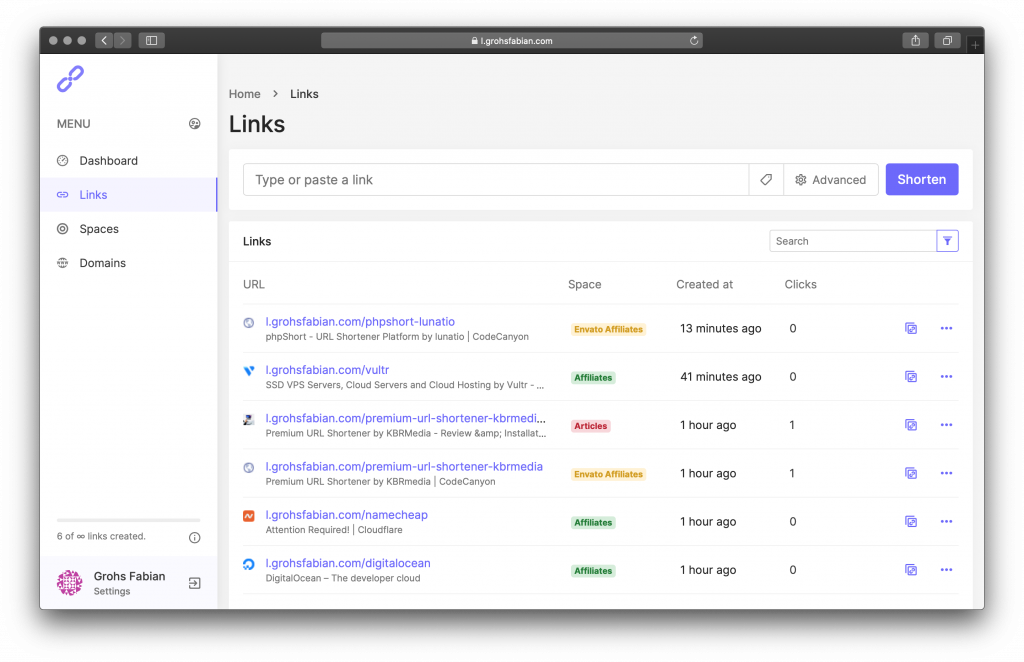 Video review
If you don't feel like reading and want to see phpShort in action, make sure to check out the video review.
Disclaimer
This is not a sponsored article/video. I have purchased phpShort in the first day it was released and I am also showing the proof of purchase in the video. It is my honest opinion on the product at the time of writing/updating this article.
Keep in mind that this review is based on my personal needs and experience with phpShort, with the Regular License, for personal use and not the SaaS version.
Links